The Centers for Disease Control and Prevention (CDC) and American Cancer Society (ACS) recommend that women receive one of two options for testing for cervical cancer: PAP smear or Liquid Based Cytology (LBC) and HPV (Human Papilloma Virus) testing. However, the two testing methods have many similarities and differences. This blog will discuss the similarities and differences between the PAP smear test versus the HPV test.
Pap Smear vs. HPV Test : An Overview
Pap smears are one of the most widely used tests to screen for cervical cancer. It was not very long ago that the Pap smear was introduced for use in the detection of cervical cancer and precancerous lesions. However, with the introduction of HPV testing, the Pap smear has become more of a secondary test for women with negative HPV test results.
Pap smears are still widely used and accepted as an effective means of screening for cervical cancer because it is a relatively cheap and simple test to administer. However, it is not without its disadvantages. One of the biggest issues with the Pap smear is that it has a high false-positive rate, making it difficult for doctors to determine whether or not a woman really does have cervical cancer.
Another disadvantage of the Pap smear is that it does not test for all of the different types and strains of HPV that can cause cancer. Finally, the Pap smear does not test for HPV on its own. It is simply a test that looks for cellular changes on the cervix that are associated with HPV infections. The Pap smear does not actually test for the presence of HPV itself.
How does the HPV test work?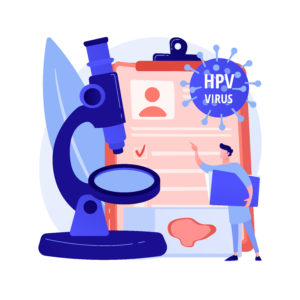 The HPV test is a test to detect the Human Papillomavirus or HPV. It's a DNA-based test, rather than a smear test. The Pap smear is a test used by gynecologists to check for cervical cancer. The test is carried out by taking a sample of cells from the cervix and then examining them under a microscope. The HPV test is done by taking a sample of cells and then sending it to a laboratory for analysis. The cells are then tested for the presence of the HPV virus.
What is the Liquid Based Cytology (LBC) test exactly?
Liquid-based cytology (LBC) is a cervical cancer screening technique that inspects cells by dissolving them in liquid. This method is less invasive than the conventional Pap smear test. The LBC test is also known as ThinPrep. It was approved by the FDA in 2000 and is now considered the primary screening tool for cervical cancer.
The LBC test is used to detect high-risk HPV and low-grade cervical changes. This test is more accurate and less invasive than the conventional Pap smear test. It is also less likely to produce false positives. However, it can only be used for the screening of cervical cancer.
The conventional Pap smear test, on the other hand, can only detect cervical cancer. It can't detect HPV or any low-grade cervical changes. Therefore, the LBC sample is ideally to be sent for HPV testing as well.
A woman can either do PAP + HPV OR LBC + HPV testing OR Only HPV Testing to screen for Cervical Cancer.
Advantages of LBC with HPV testing over PAP testing
| | |
| --- | --- |
| LBC + HPV TESTING | PAP SMEAR TESTING |
| Improved detection rate: The HPV test is designed to test the HPV virus causing the cell changes | Lower rate of detection |
| Better detection: The HPV test is more sensitive than a pap test in detecting precancerous cells. | Less sensitive |
| HPV test is more specific than a Pap test. | Lower specificity |
| LBC is better than a Pap test in detecting cancerous cells. | Lower rate of detection than LBC |
| LBC test is more specific than a Pap test in detecting cancerous cells. | Less specific than LBC |
| The HPV test has a higher negative predictive value than a Pap test. | Lower negative predictive value |
| HPV test has a lower false-positive rate than a Pap test. | Higher false positive rate than HPV |
| The HPV test is easier to read than a Pap test. | More cumbersome |
| The HPV test is more likely to prevent cervical cancer than a Pap test. | Less likely |
| LBC with HPV screening has been shown to increase the rate of cervical cancer detection, and therefore reduce mortality rates. | Lower cervical cancer detection |
| LBC with HPV screening has been shown to increase the rate of cervical cancer detection, and therefore reduce mortality rates. | Lower rate of detection |
| Less invasive | Pap smear testing is an invasive and time-consuming procedure, which can be uncomfortable for women to undergo. |
Advantages of HPV +LBC testing over Conventional Pap Smear
Cervical cancer screening is important because it can catch cancer in the early stages, when it is most treatable. Both the HPV test and the PAP Smear test are cervical cancer screening tools that can be used to detect changes in the cells of the cervix early, when treatment is most likely to be effective. Learn more about these two cervical cancer screening options and which one may be right for you
---