Dear Doctors and associates,
SRL Dr. Avinash Phadke Labs has commenced testing for COVID – 19 by Real-time RT-PCR method with effect from 17/04/2020 ICMR COVID-19 Testing Registration No: SRLDAP001
Test Charges Rs. 700/- Per test (sample collected by SRL Dr. Avinash Phadke Labs)
Testing will only be performed when accompanied by
A prescription from a registered medical practitioner (signed and stamped) in the given MCGM format. Click to Download
Patient Proforma (duly filled) Click to Download
Valid photo id of the patient
Request you to go through the below-mentioned guidelines for testing criteria, sample collection, transportation, and testing.
Whom to test for COVID 19?
As per the directive from Municipal Corporation of Greater Mumbai dated May 12, 2020, testing will be conducted only for patients in the following criteria.
A] Testing Guidelines for General citizens:
Testing to be undertaken of the General Citizens falling- under following categories:
All symptomatic persons (fever, cough, difficulty in breathing) within 14 days of international travel.
All symptomatic contacts of confirmed cases
All symptomatic health care workers
All hospitalized patients with Sever Acute Respiratory illness (fever and cough and/or shortness of breath)
Pregnant women residing in clusters/containment area or in large migration gatherings/evacuees center from hotspot districts presenting in labor or likely to deliver in next 5 days should be tested even if asymptomatic. (Asymptomatic pregnant women should be tested in the facilities where they were expected to deliver and all arrangements should be made to collect and transfer samples to testing facilities. Women should not be referred for lack of testing facility.)
All symptomatic patients identified in:
SARI clinics
Fever clinics
OPD in Hospitals (Govt. & registered Private)
Only if there is a strong suspicion of COVID-19 in persons requiring elective surgery or surgery which can wait for 48 hours, doctor can ask for COVID-19 test. No emergency surgeries should be denied to the patient for want of COVID-19 test.
For patients on regular haemodialysis, test for COVID-19 should not be asked as a routine before every procedure and only if there is a strong suspicion, the person requiring dialysis is afflicted with COVID-19, then COVID-19 test may be prescribed and such patients, both suspected and positive COVID-19, should be referred to dialysis facility for COVID-19 patients.
B] Testing guidelines for quarantined citizens:
The quarantined asymptomatic, direct and high risk contacts of confirmed case should be tested once between day 5 and 14 of coming in his/her contac
C] Testing guidelines for admitted Positive Patients:
Testing of mild/very mild /pre-symptomatic cases shall not be required before discharge, if there are no symptoms seen on 7th, 8th & 9th days consecutively.
In case of moderate symptomatic patients, testing shall not be required if the patient recovered clinically.
Testing is required once before discharge in cases of critical Patients and immune compromised patients when they have no symptoms for 3 days. However, the guidelines issued in this regard by Government of Maharashtra (reference No.6), are required to be followed very stringently.
For additions to COVID-19 Testing Policy announced by MCGM, please click here
Collection room for testing COVID – 19
Specimen collection should be performed in a Normal/Separate examination room with the door closed.
When collecting diagnostic respiratory specimens (e.g., nasopharyngeal swab) from a possible COVID-19 patient, the following should occur:
Technician in the sample collection room should wear all the PPEs as mentioned below under donning procedure.
The number of personnel present during the procedure should be limited to only those essential for patient care and procedure support. Visitors should not be present for specimen collection.
Clean and disinfect procedure room surfaces promptly as described in the section on environmental infection control below.
Collection of samples for COVID-19 testing as per ICMR guidelines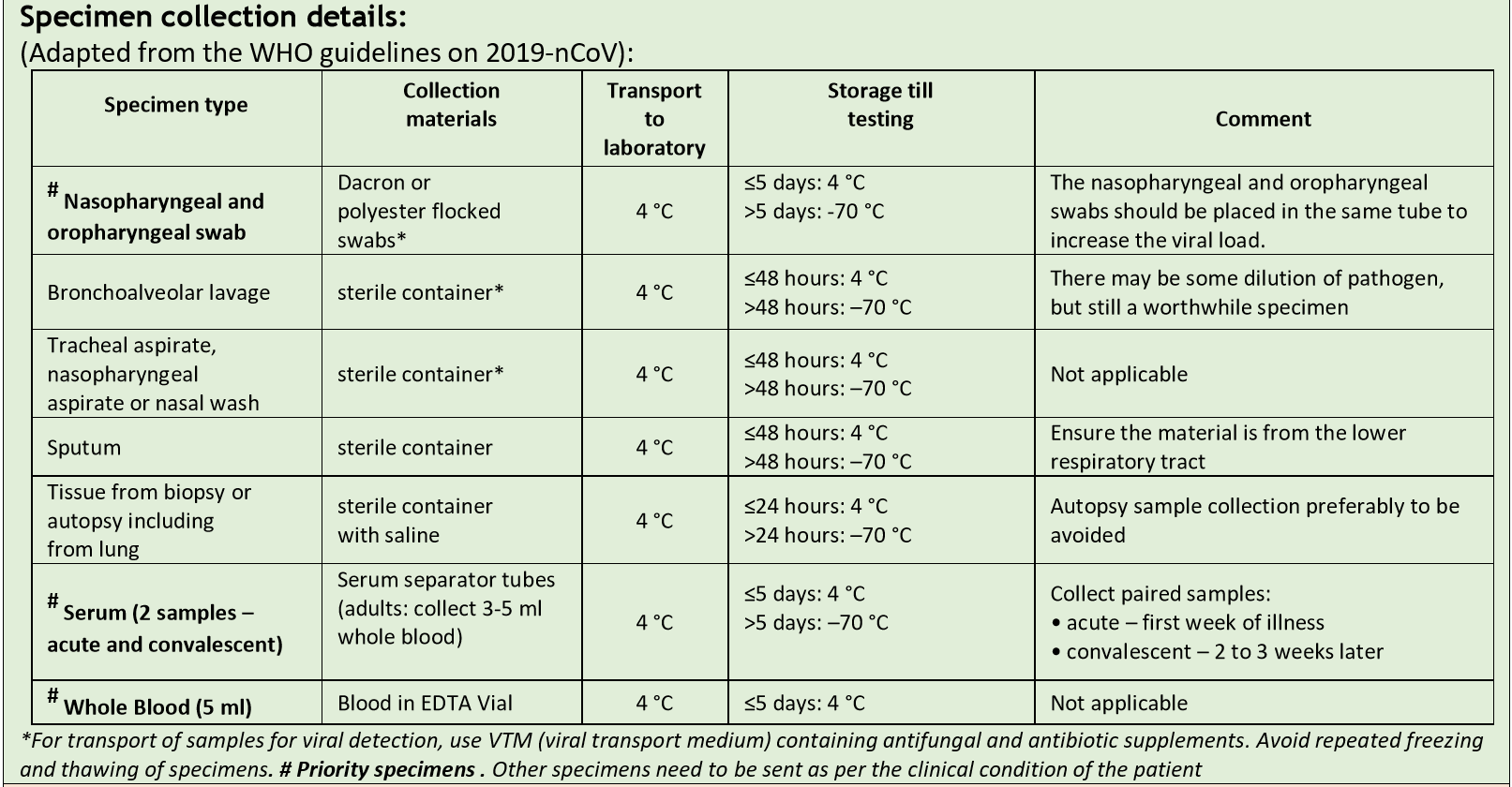 Please note: We are currently NOT accepting Serum and Whole blood samples for testing COVID -19
What Personal Protective Equipment to use?
Kindly use the following Personal Protective Equipment to protect yourself from COVID-19, during sample collection.
Face mask
Hood cap
Wraparound gown
Goggles
Long shoe cover
Gloves
Waste bag
This Personal Protective Equipment Kit will be have to procured by the organisation performing sample collection for COVID – 19 testing
How to wear Personal Protective Equipment while collecting COVID-19 test samples?
Donning of the PPE must be performed in designated area.
Remove jewellery, watches, electronic etc. and wash hands with soap and water
Wear first pair of gloves – It should be smaller than second pair, comfortable size.
Wear shoe cover.
Wear gown – wear a clean disposable non-permeable gown, arm sleeves of gown should cover the gloves at the wrists; and zip it.
Wear the N95 respirator – cup the mask in hand, place the lower strap behind the neck passing below ears, then place the upper strap over back of head passing above ear. Check for snug fit of mask. There should be no more than minimal air leak from sides
Wear goggles –While wearing, upper end N95 mask should be covered by goggles.
Wear gown Hood (Cap): Put on head and neck covering the sides of the with gown hood.
Wear 2nd pair of the gloves – It should be of larger size than 1st pair, should cover free end of arms of gown.
How to wear mask for collecting COVID-19 samples?
Appropriate use and disposal is essential to ensure they are effective and to avoid any increase in risk of transmission associated with the incorrect use and disposal of masks.
Perform hand hygiene and wear N95 mask.
Hold the mask with a cupped hand and place it firmly over your nose, mouth and chin
Stretch and position top band high at the back of the head, stretch and position bottom band under the years
Press the thin metal wire along the upper edge gently against the bridge of your nose, so that the mask fits nicely on your face.
Perform a fit check by inhaling and exhaling. During exhalation check for air leakage around face.
While in use, avoid touching the mask
Remove the mask by using appropriate technique (i.e. do not touch the front but remove the lace from behind)
After removal or whenever you inadvertently touch a used mask, clean hands by using an alcohol based hand rub for 20 seconds.
Replace masks with a new clean, dry mask as soon as they become damp/humid
Discard single-use masks after use and dispose-off them immediately in Yellow biomedical waste bag.
Material Requirement for Sample Collection
Materials required for sample collection:
Special collection kit with 2 swabs and Viral Transport Medium (VTM)
Sterile container for sputum or BAL sample
Disposable Tongue depressor
PPE (Gloves, Gown, N95 Mask, Goggles)
Material required for sample transport:
Adsorbent material (cotton, tissue paper), paraffin, seizer, cello tape.
A leak-proof secondary & tertiary container (e.g., zip lock pouch, sturdy plastic container).
Hard-frozen Gel Packs
A suitable outer container (A thermocol box and hard-cardboard box) with minimum dimensions: 10 x 10 x 10 cm.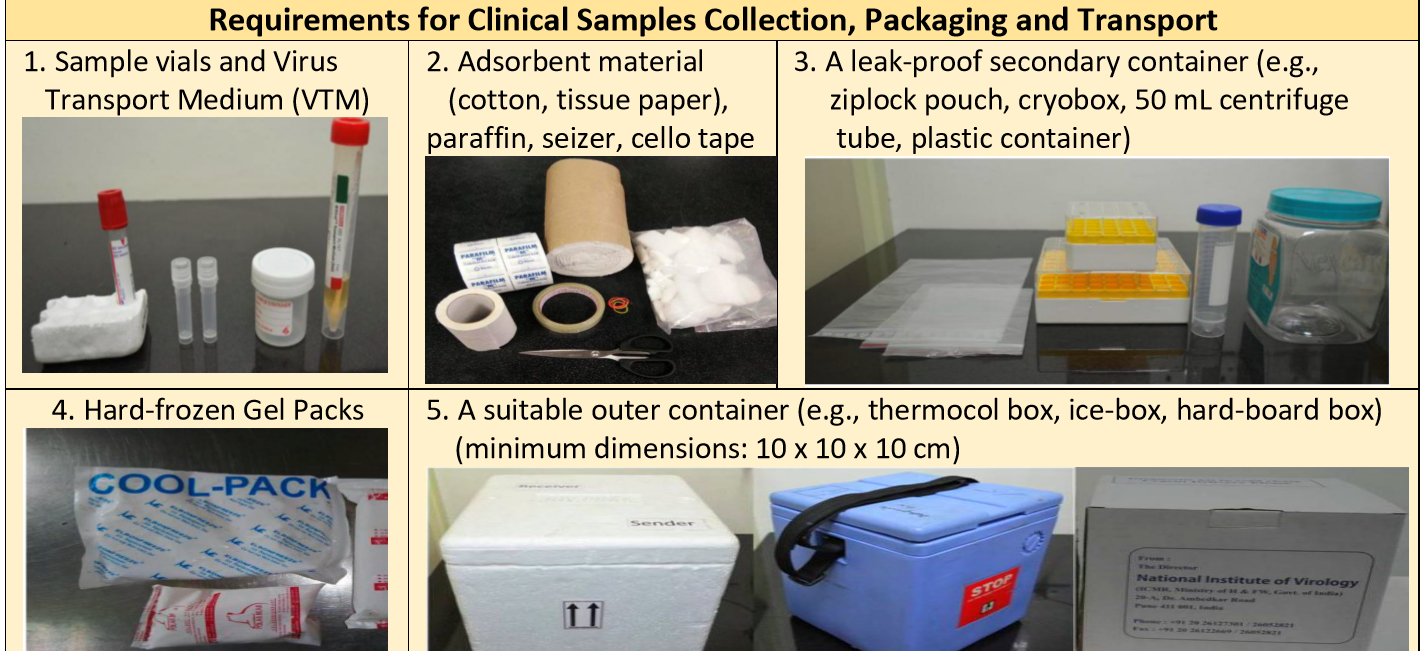 Sample Collection Procedure
A special collection kit is been provided which consists of 1 viral transport medium (VTM) vial and 2 Nylon Flocked swabs in a sealed plastic bag.
A: Collection of throat and nasal swab: (Upper Respiratory tract)
1st nylon flocked swab to be used for collecting Oropharyngeal swab (Throat swab)
2nd nylon flocked swab to be used to collect Nasopharyngeal swab (Nose swab)
Procedure for Collection of Oropharyngeal swab (Throat swab)
Have the patient sit with his/her head slightly tilted backwards.(70 degree)
Peel the envelope open and remove 1 swab.
Hold the tongue out of the way with a tongue depressor.
Use a sweeping motion to swab bilateral tonsillar pillars and then reaching posterior pharyngeal wall
Have the subject say "aahh" to elevate the uvula.
Avoid swabbing soft palate and do not touch the teeth, gums & tongue with swab tip.
Put the swab into Viral transport medium (VTM) immediately.
Secure the cap firmly.
Procedure for Collection of Nasopharyngeal swab (Nose swab)
Tilt patient's head back 70 degrees
Insert second flexible swab through the nares parallel to the palate (not upwards) until resistance is encountered or the distance is equivalent to that from the year to the nostril of the patient.
Leave swab in place for several seconds to absorb secretions slowly remove swab while rotating it
Insert the same swab in another nostril and repeat the same procedure
Place tip of swab into VTM and cut off the extra applicator stick.
Put the second swab into the same viral transport medium (VTM)
B: Collection of Sputum (Lower Respiratory Tract)
Have the patient rinse the mouth with water and then expectorate deep cough sputum directly into a sterile, leak-proof, screw-cap sputum collection cup or sterile dry container.
C: Collection of BAL (Lower Respiratory Tract)
Collect 2-3 mL into a sterile, leak-proof, screw-cap sputum collection cup or sterile dry container.
Please view the video for a step by step guide on sample collection
Specimen Labelling, Processing and Safety Measures
Personal protective equipment's (apron, hand gloves, face shield, N95 Masks etc.) needs to be used and all biosafety precautions should be followed so as to protect individuals and the environment.
Proper labelling (name/age/gender/specimen ID) need to be done on specimen container and other details of sender (name/address/phone number) on the outer container by mentioning "To be tested for 2019-nCoV"
Documents to accompany sample collection
Filled Test Request form/ Patient Proforma (Provided by SRL Dr. Avinash Phadke Labs)
Doctor's prescription
Government ID (copy of Election ID, Adharcard, Driving license, passport or pan card)
Packaging list/Performa Invoice (In case of outsource)
Air way bill (for air transport) (to be prepared by sender or shipper in case of outsource)
Value equivalence document (for road/rail/sea transport)
Precautions for the transport of samples
For Sample Pick up by SRL Dr. Avinash Phadke Labs, please contact 7400268960 / 02268247248 / 02248247248
COVID-19 Test charges and reporting
We will be processing samples using Real Time RT PCR Method for screening and confirmation of COVID-19.
Screening + Confirmatory Testing = Rs. 700 (if the sample is collected by Phadke Lab's technician at patient's location) & Rs. 500 (if the sample is collected at Phadke Labs Covid collection centre)
If the sample is collected by the hospital's staff, the charges will be Rs. 350. Viral Transport Media (VTM) and sample collection swabs are to be procured by the hospital
Daily Cut-off Time for receiving the samples: 5.00 P.M.
Turnaround Time for Reports: 24 to 48 hours from time of receipt of sample in reference lab
Report Delivery: Only soft copy of the report will be available for immediate delivery via email. Hard copy of the report will be delivered depending on availability of delivery executives
Storage of samples post-testing
All positive samples will be sent to National Institute of Virology, Pune. All negative samples will be destroyed within a week. The samples will not be shared with any other organisation as per ICMR Guidelines.
Disposal of samples
The viral transport media with swabs should be discarded in biohazard bag containing 2% Lysol or 5% freshly prepared hypochlorite solution. Bag should be sealed with a plastic tag and disposed as per guidelines by Ministry of Health and Family Welfare.
For any further queries, kindly reach us at 02268247248 / 02248247248 or write to us at care@phadkelabs.com.
---